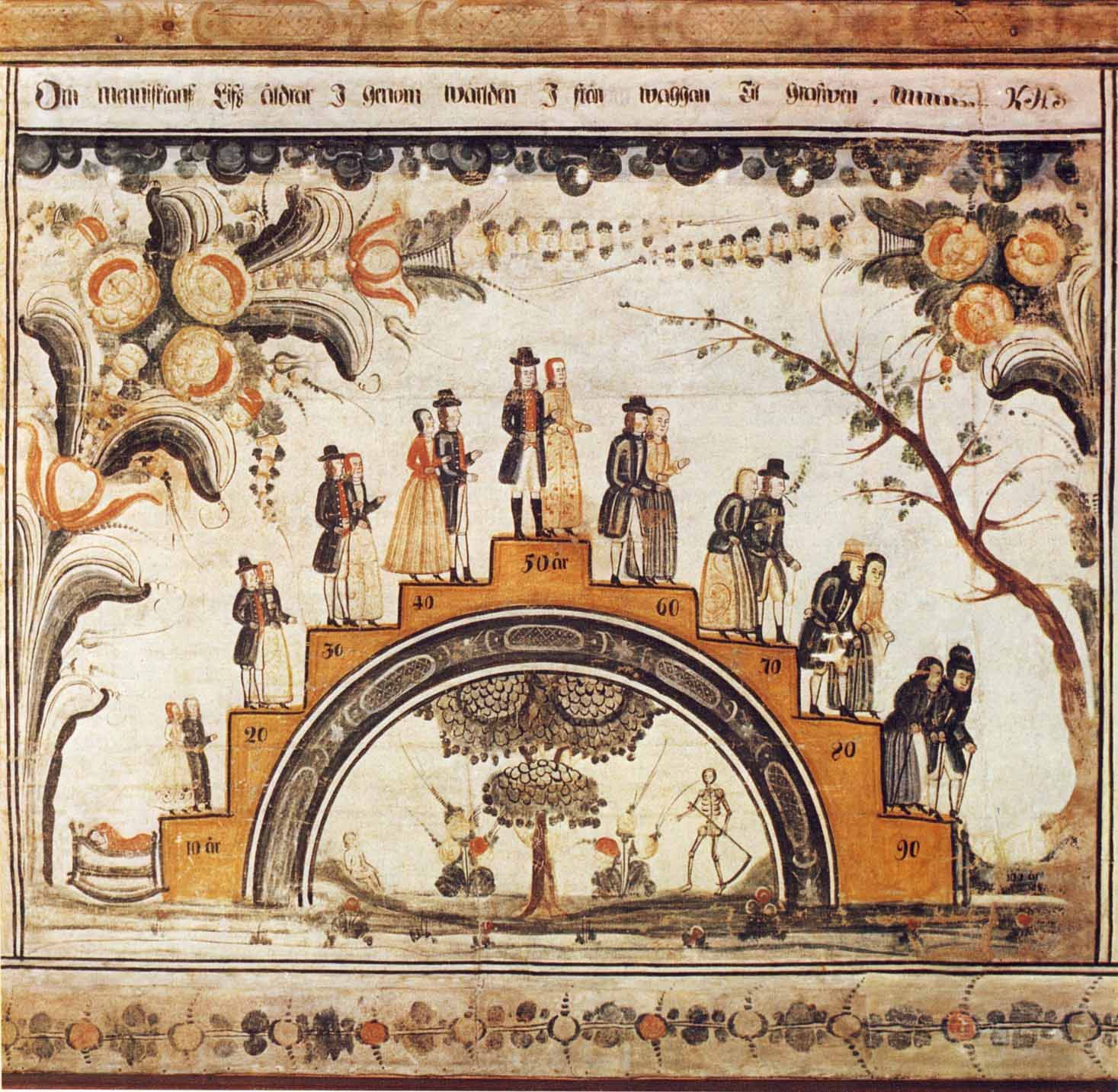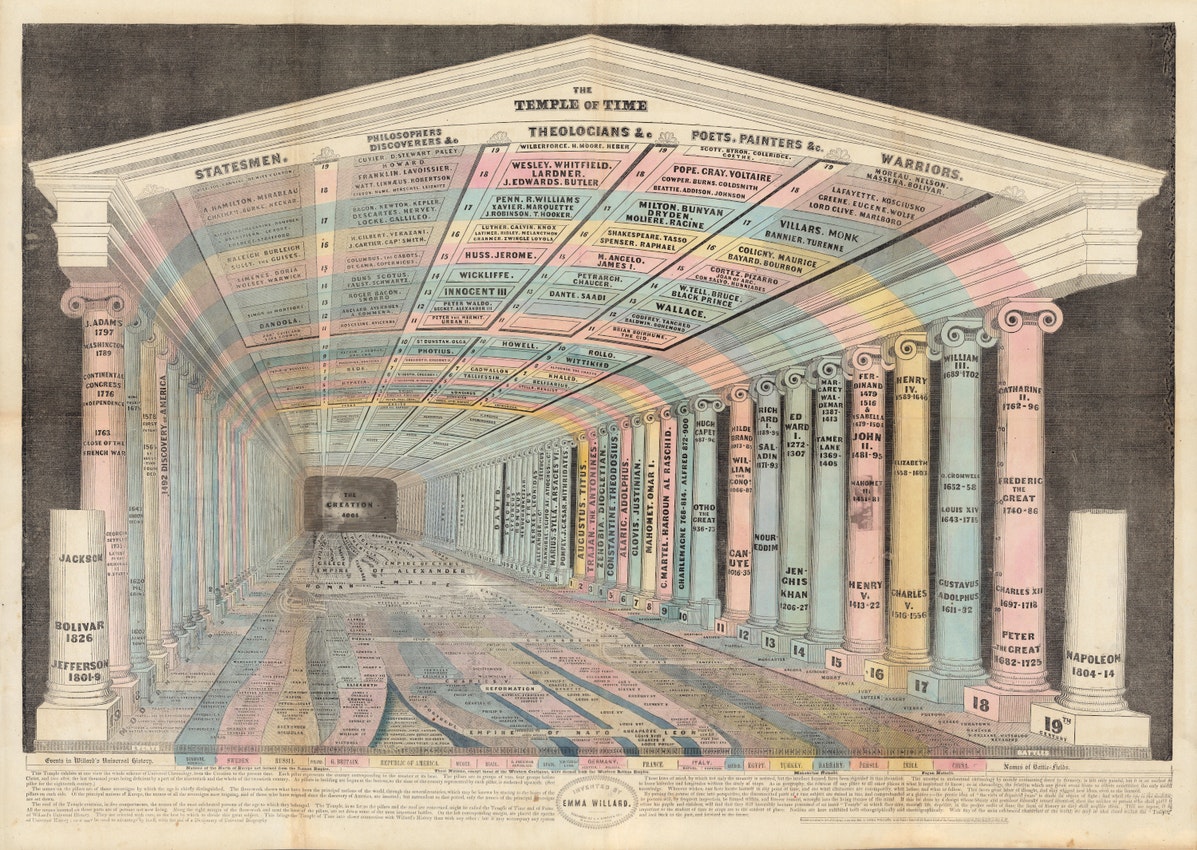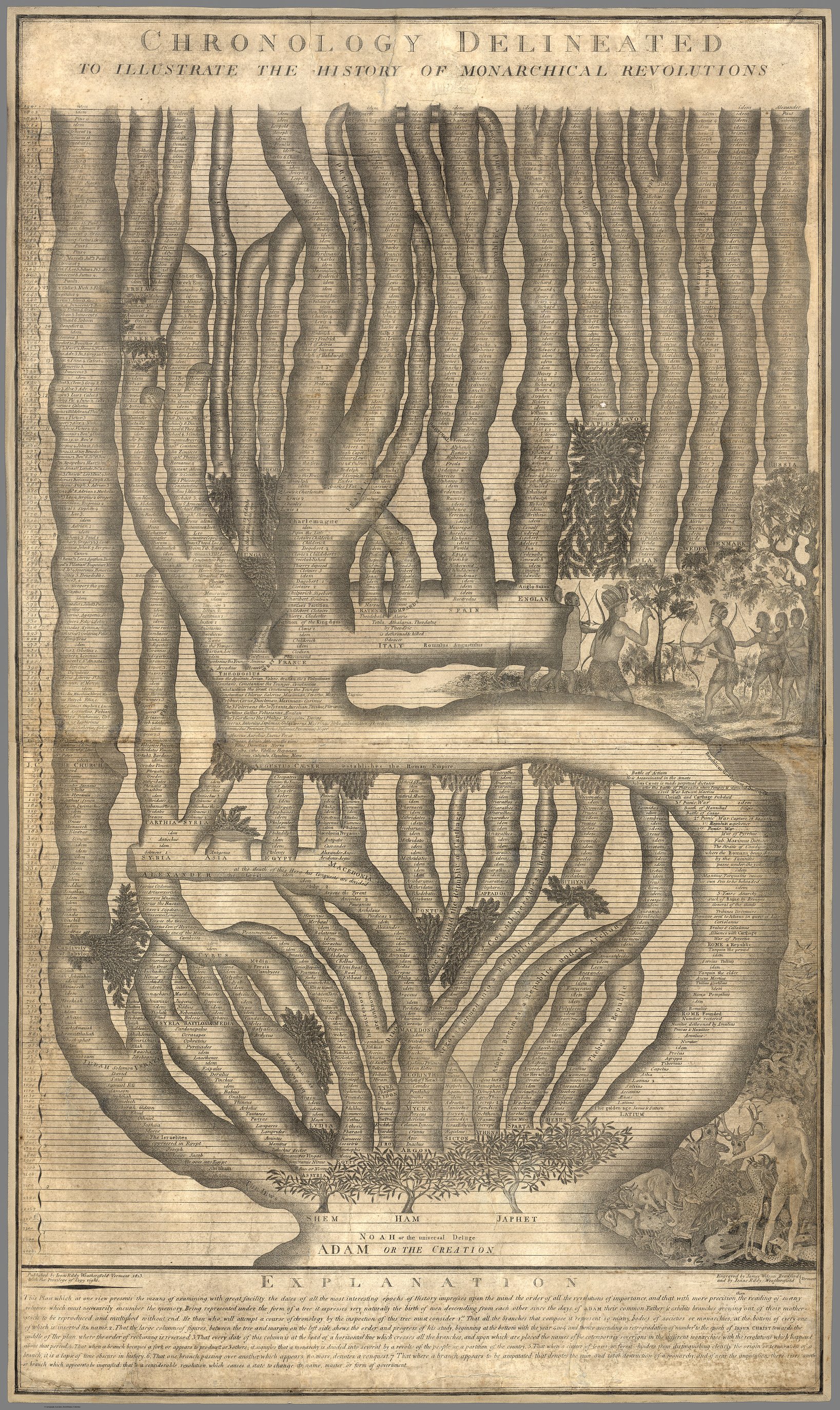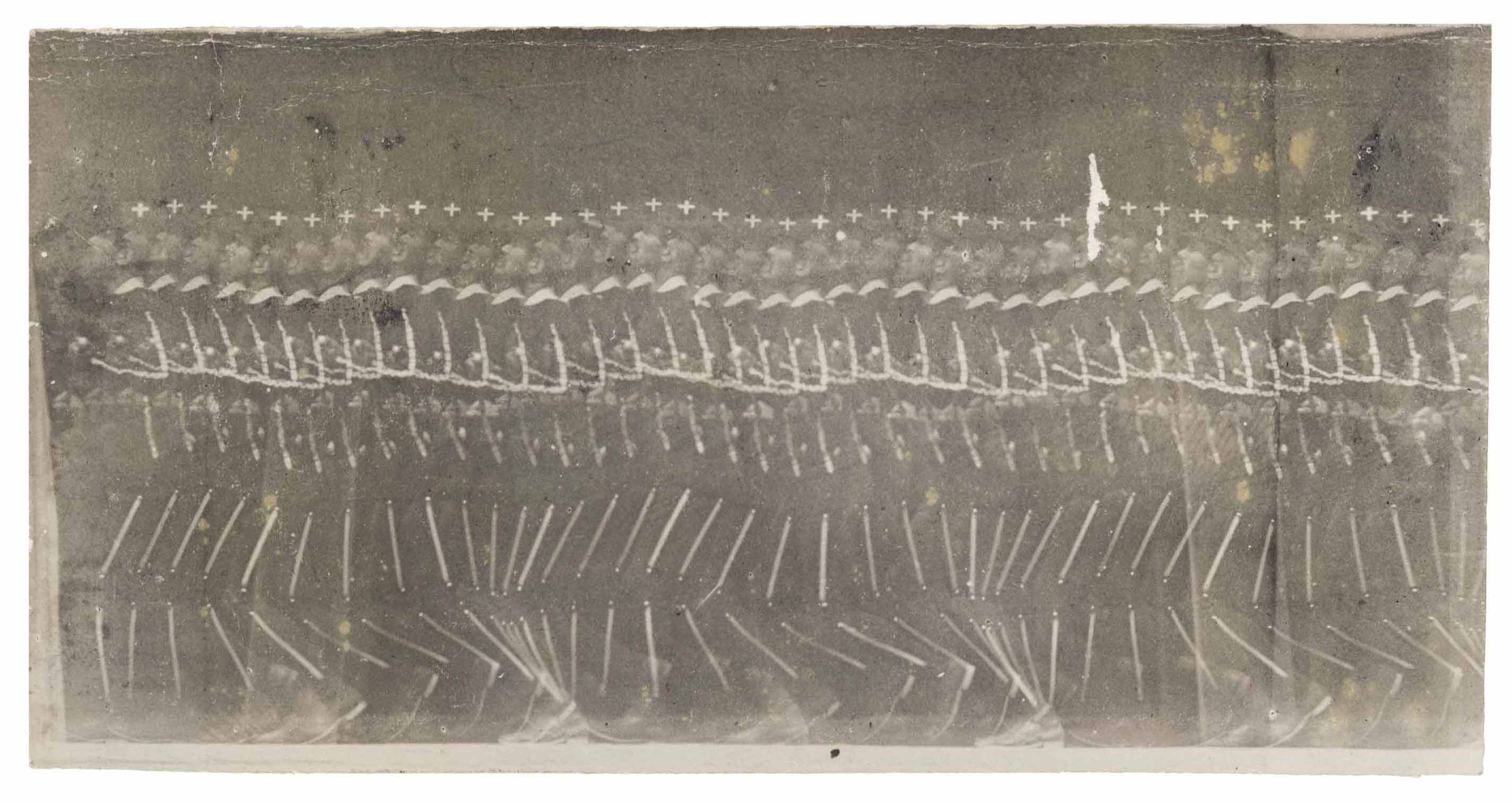 What Does Time Look Like?
For this issue, we spoke to our friend Adam Green, Editor-in-Chief at
The Public Domain Review
, 'an online journal and not-for-profit project dedicated to the exploration of curious and compelling works from the history of art, literature, and ideas.' We asked Adam if he could think of some images that found inventive ways of depicting time. These are the curious and beautiful works he sent back.
Click each image to zoom in or find out more about it on The Public Domain Review.
The Steps of Life
Winter Carl Hansson, 1799. (Wikimedia Commons)
Ancient Courses Mississippi River Meander Belt
Harold Fisk, 1944. (US Army Corps of Engineers)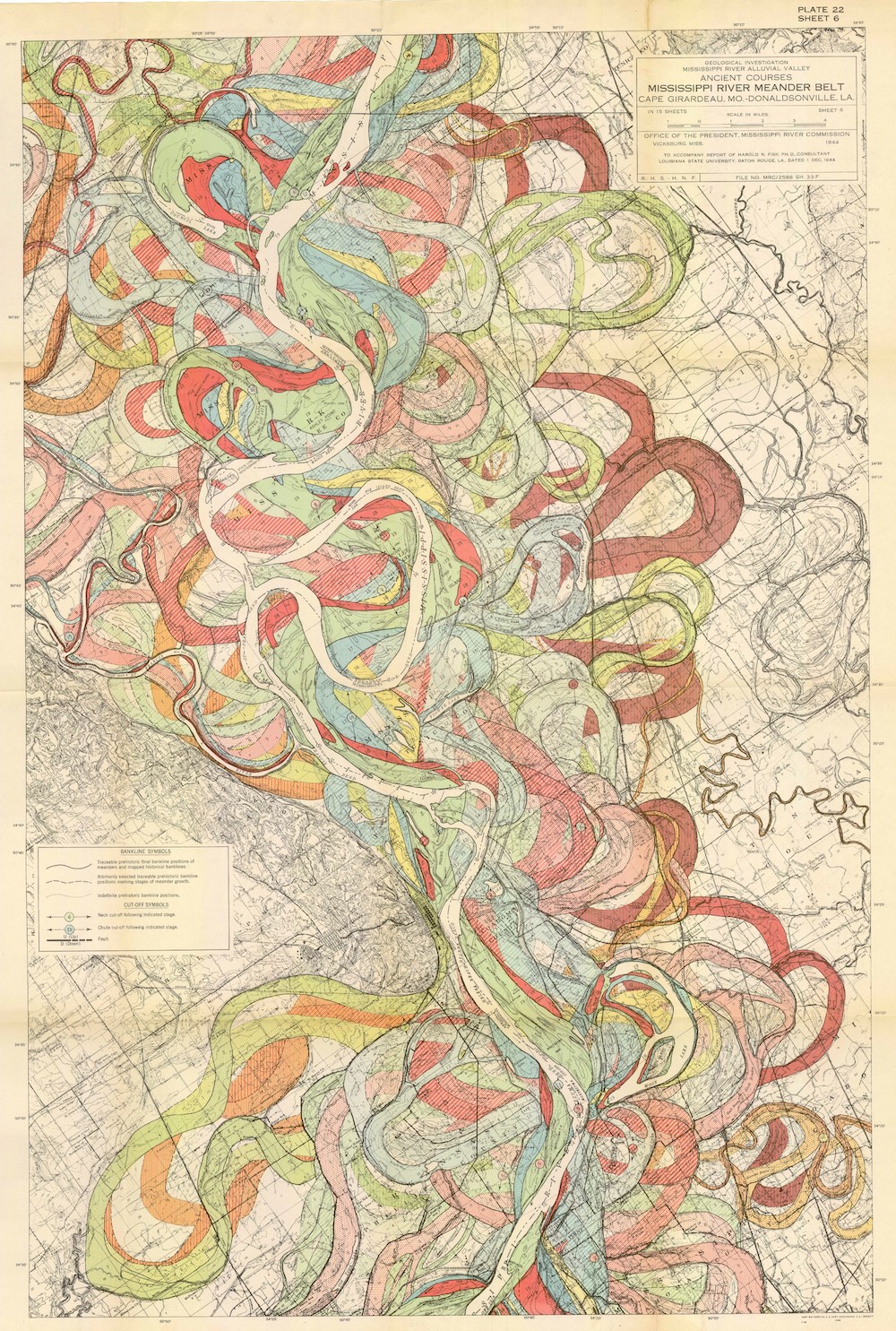 The Temple of Time
Emma Willard, 1846. (Cartography Associates: CC BY-NC-SA 3.0)
Man Walking
Étienne-Jules Marey, 1882.

Click to enlarge

Chronology Delineated to Illustrate the History of Monarchical Revolution
Isaac Eddy and James Wilson, 1813. (David Rumsey Historical Map Collection)

Click to enlarge

From Kneading Dough to Wedging Clay:
How you might discover a new skill by doing what you already do best
Barney Pau
"Most of us are accustomed to 5 day weeks, working 8 hours a day in the same line of work, producing the same things and repeating the same processes. So when suddenly presented with a prolonged period of isolation, where many of us are learning how to be with ourselves, it offers the perfect opportunity to diverge from what you believe you are constrained to, into something that you already know how to do. All we have to do is translate it to a different language. Let me explain..."
Read Barney's article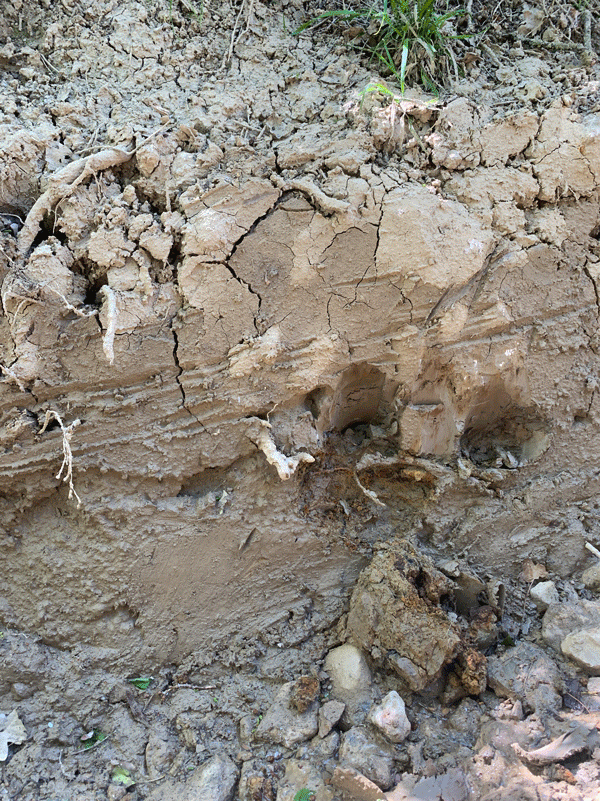 To Plant A Garden Is To Believe In Tomorrow
Alex Thompson-Byer @ourgreenagenda


Love in the Time of Corona
Anon



1


On Friday 13th March a man from the internet brought me an espresso martini in a bar. A bar! Can you imagine? It seems impossible these days. We had planned to get a cocktail before going to a queer trans night at a strip club. "Either this person is your soul mate or you planned this first date," my housemate said as I departed. I had planned the date, but he had agreed which was a good start.

2


Two days later, he left my house. "What brings you to Hinge?" I'd asked him over breakfast the morning after we'd met. "Love," he answered. I was taken aback. It's a question I'd enjoyed throwing at straight men on the internet since breaking up with my ex-girlfriend. A horrified "I don't know!" was the usual response, in the same incredulous tone that I imagine people use when asked how porn ended up on their work computer.



3


I was about to move to Berlin and I felt liberated. I do all my best dating when I'm about to leave the country. Since breaking up with my ex-girlfriend, I had spent 18 introspective months discussing relationship styles in therapy. The cloying, insular monogamy of that relationship had left me committed to living my best solo-poly life. I had not nurtured my body back to life only for someone to take it from me again. I had fought for my desire and freedom and was not about to sacrifice them to anyone.




4


"My housemates told me that I'm only allowed one boyfriend and I chose you," I gushed. It was our second date. By that point, Government advice discouraged but did not legally prohibit all but essential social contact. Someone in Whitehall must have envisaged that some trips to the pub were essential because they were all still open. We compromised and jumped over the fence in Victoria Park to sit on the jetty of the lake eating tira misu in the moonlight. Two days later, he left my bed.



5


"Am I still allowed to have one visitor if he doesn't see anyone else?" I asked my housemates after the official lockdown announcement on March 23rd. "No," was the unanimous response. "I can't believe you'd be so disrespectful to NHS staff." Having agreed to my housemates' partners moving in for lockdown, I now found myself as a permanent fifth wheel on a double date. It sucked. Maybe Government epidemiologist Neil Ferguson now wishes he also lived with two smug monogamous couples who would have vetoed visits from his lover.


6


Our only option was to become U-Haul lockdown lesbians. It was literally official Government advice. England's deputy chief medical officer Dr Jenny Harries (featured in the upcoming season of The Real Whitehall L Word) announced that couples should test the strength of their relationship by living permanently with each other. Was I really about to persuade a heterosexual man to move in with me on a third date?



7


A sympathetic friend offered me his houseboat while he was living with his girlfriend. But would moving out of my house be any less intense? It would mean not having to live together full time but I would be living alone. Could two weeks of corona really dissolve 18 months of solo-poly boundaries? I had said on our first date that I never wanted a monogamous relationship. And yet he was about to become not only my sole romantic partner, but literally the only person I would ever see.




8


"Fuck it," I thought. Surely it would at least give us the opportunity to find out whether we actually hated each other? I called my friend with the boat. "I'll take it," I said. "Great!" he said. "I should probably let you know that there might be bed bugs on the boat." "Oh. Really?" "Yes. The person who was on it in February left because there were bed bugs, but I did change the mattress. Hopefully it's fine, but I can't be sure." "Fuck it," I thought. Maybe we hate each other, maybe all my clothes get infested with bed bugs. But maybe that's better than pining for someone at home?



9


So our third date was on the boat, seemingly without bed bugs or hating each other. Late afternoon sunlight poured through the window as we lay on the bed planning boat trips into the countryside. While everyone else was locked down, we were floating away together somewhere new.




Henry and the Phone Witch Femi Oriogun-Williams

'It began with the trees. In the glades of the forest where the boys would play, a sickness crept through the branches. The leaves turned black, the fruit shrivelled and fell to the forest floor, and soon the green clearings were thick with rotten plant matter. Then the animals of the farm began to grow weak, their milk turned sour and their meat became tough...'

Read this story out loud to a friend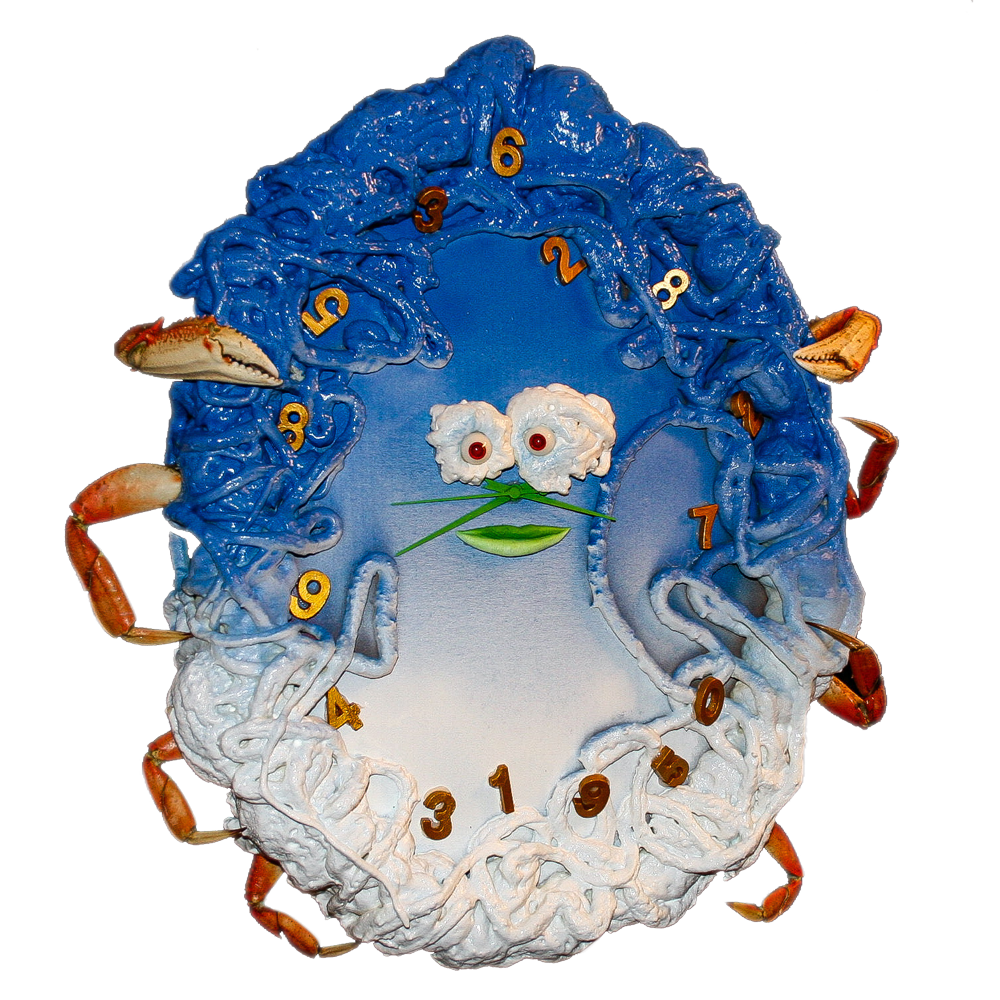 Time is Nothing
@gr8kakes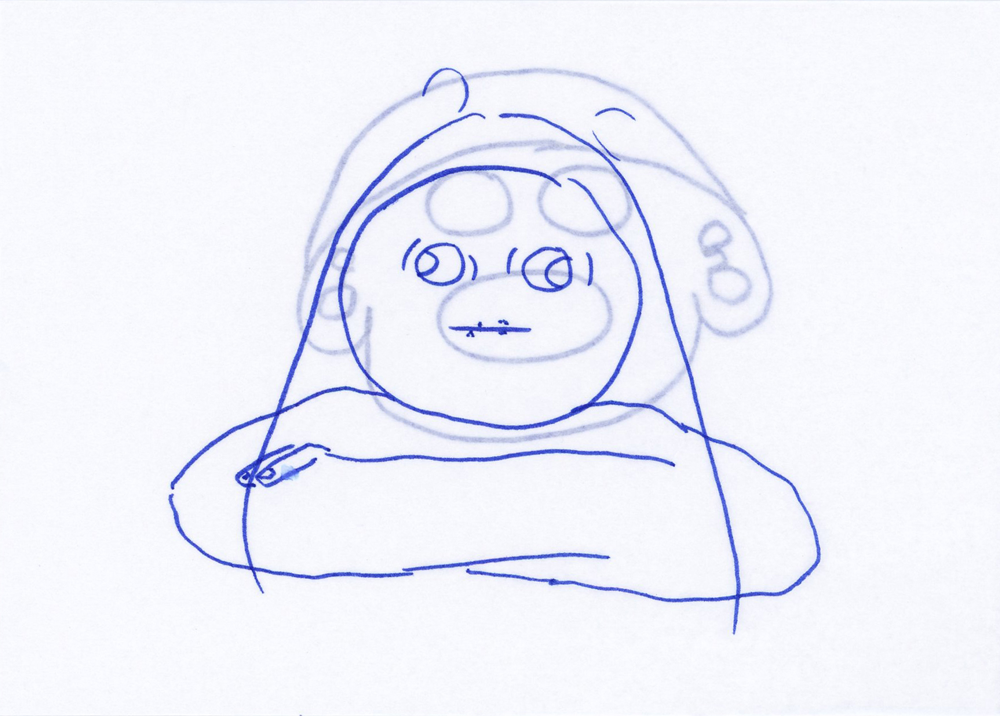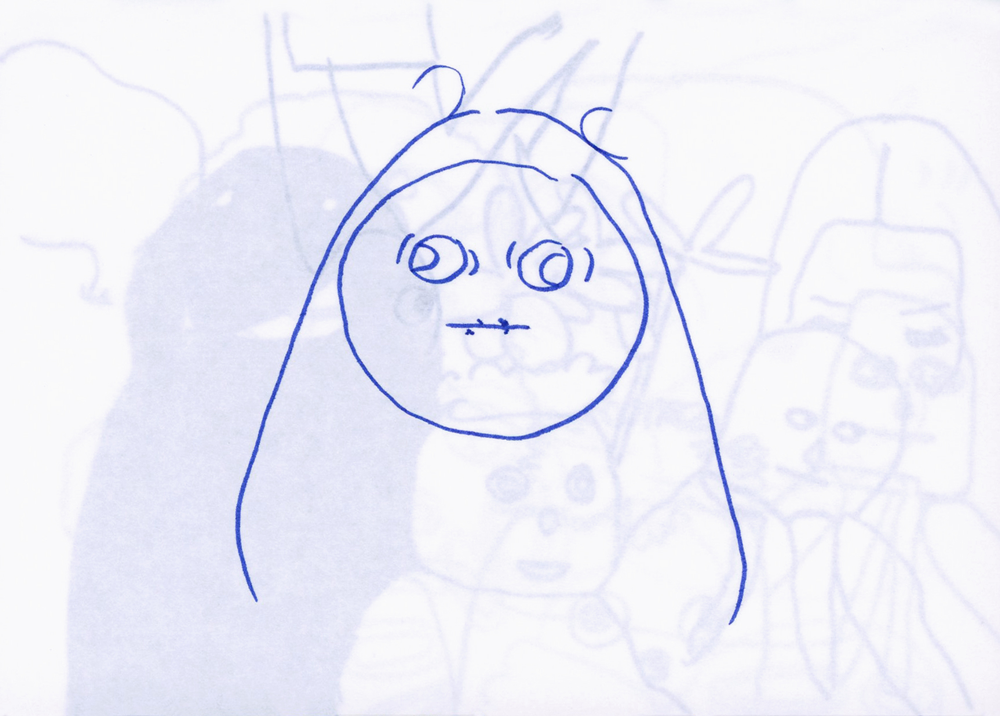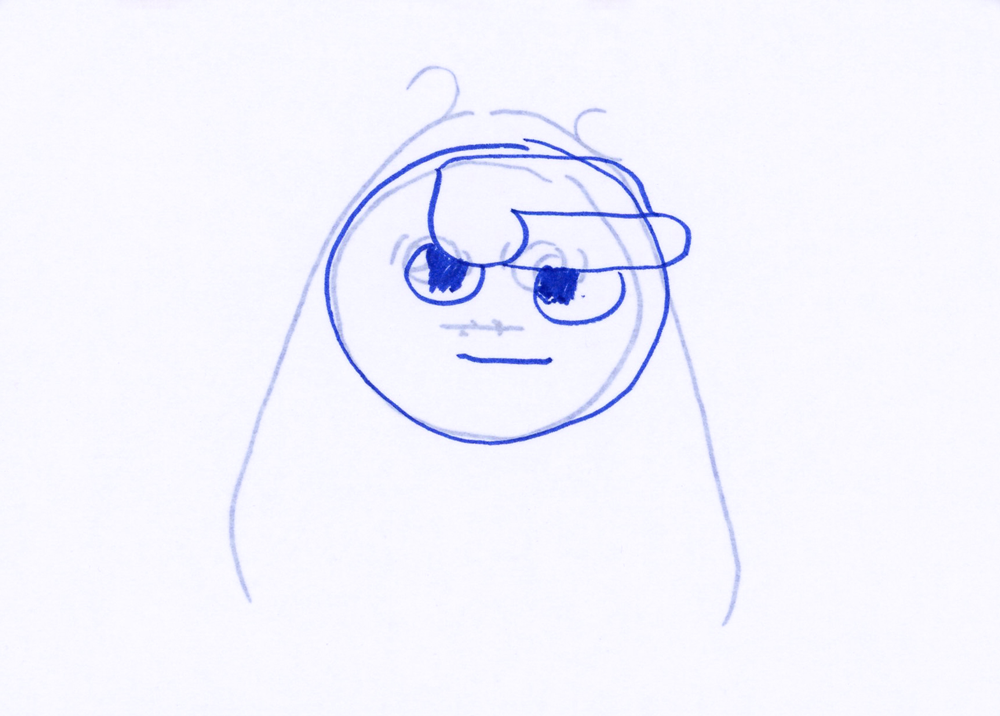 Florence Shaw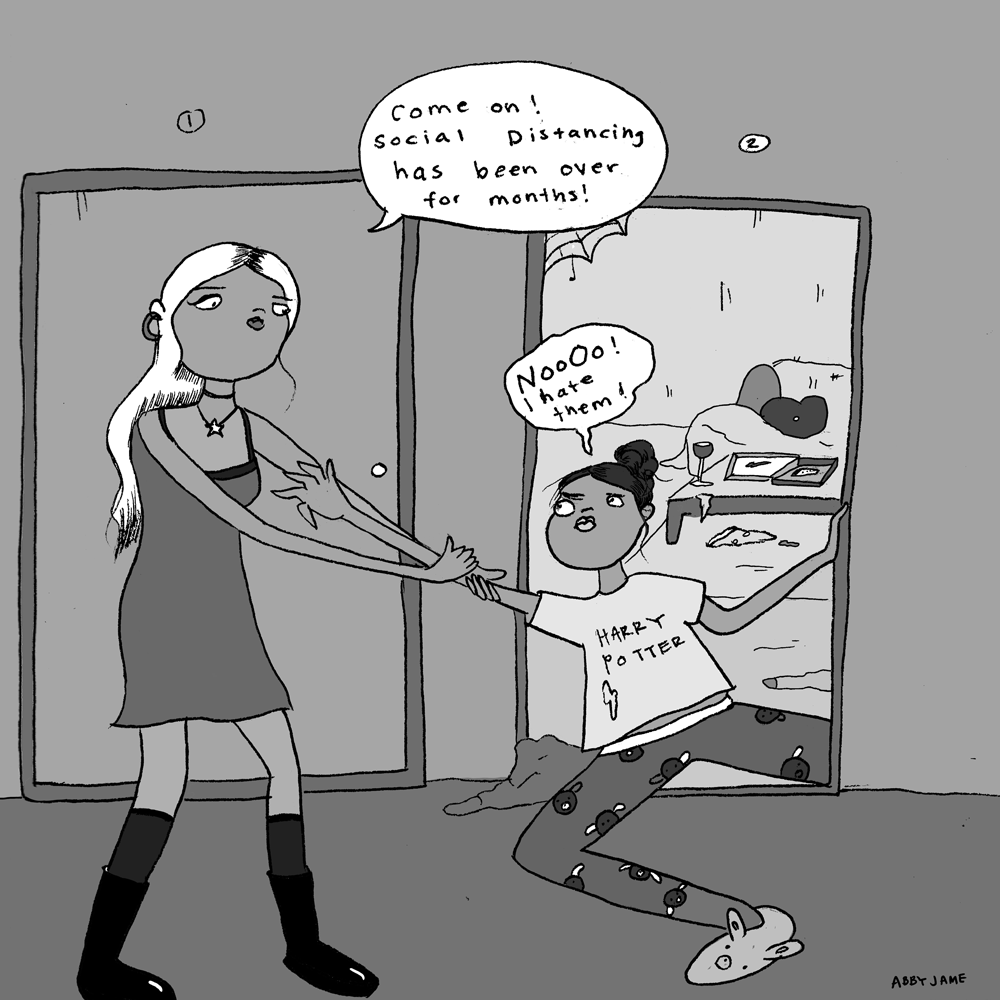 Abby Jame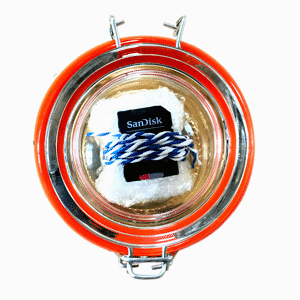 Time Capsule Update

Last week we buried the infamous HC! Time Capsule at Dartington Estate (where the Welfare State and the NHS was invented). It was filled with stuff you sent us.

(Secret) We also buried it online with the help of cryptic coder Alfred Cassels, so that our curious readers can find out what's inside without having to go to Devon.

Whilst reading this issue, keep an eye out for the treasure and click the spinning time capsule now to go through to a picture of the launch site, where you can find a clue to the password you'll need later! (Yes, we went to town on this).
Miles Davis Voodoo
Michael Powell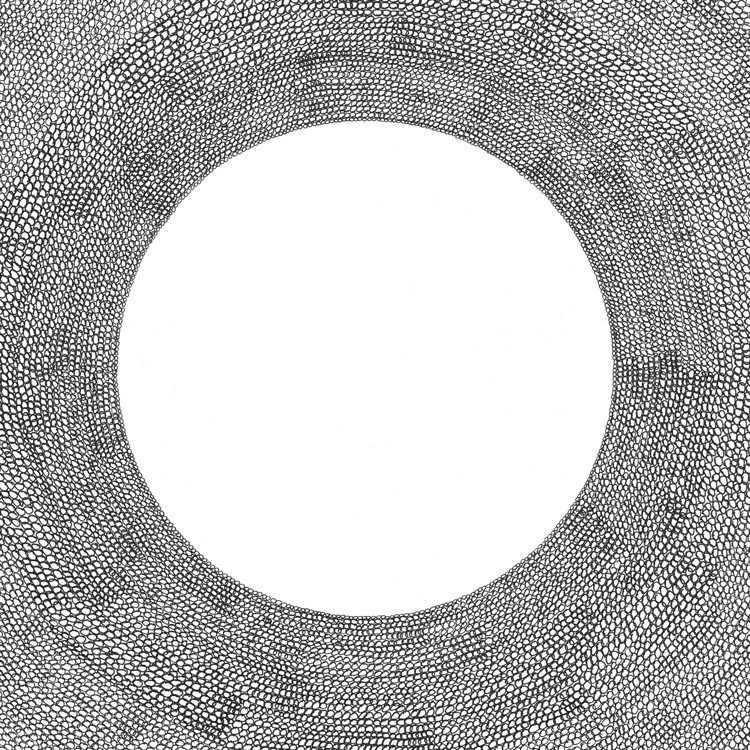 Time on my Hands
Jesse Rivers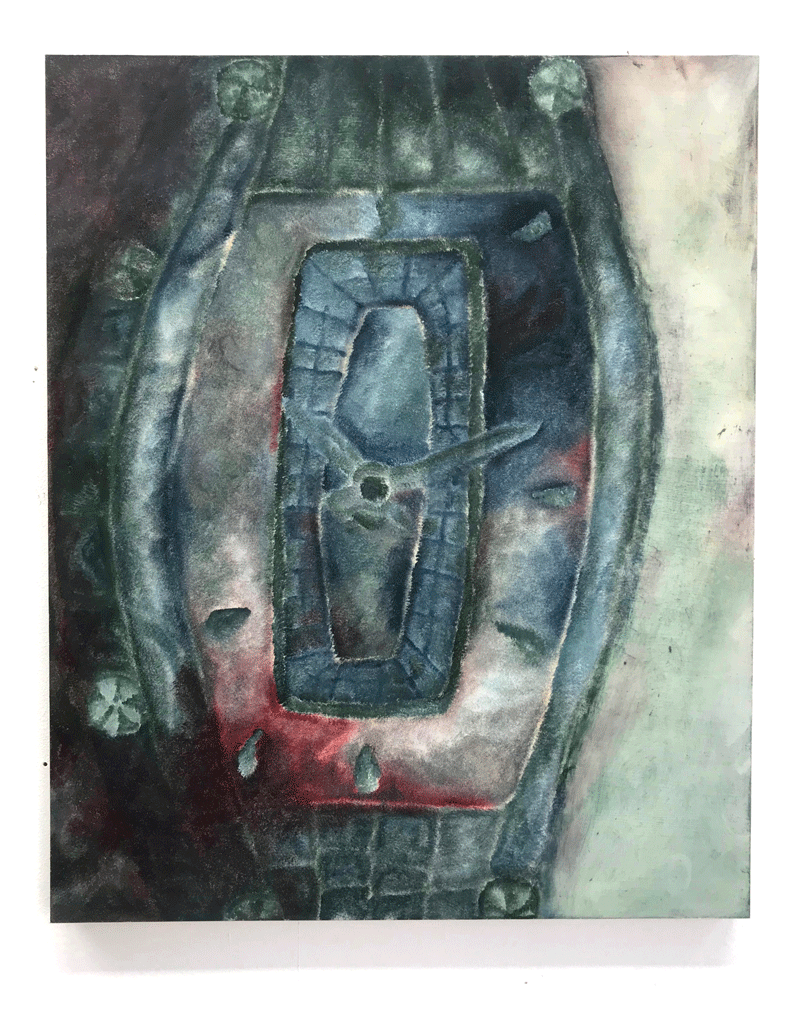 Untitled (Watch)
Kiki Wang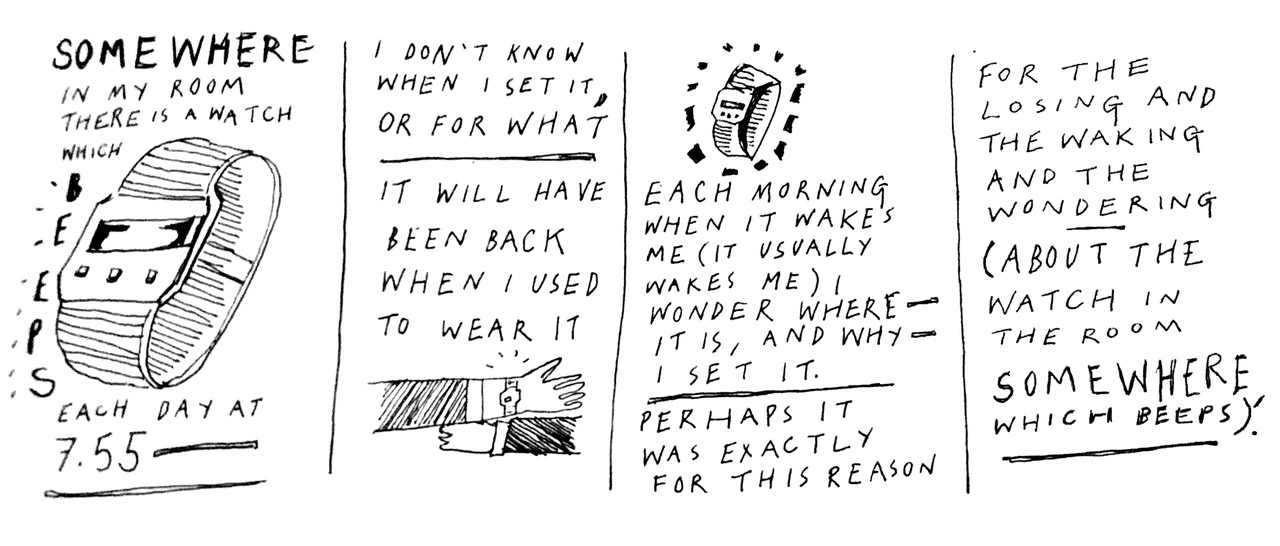 Phoebe Thompson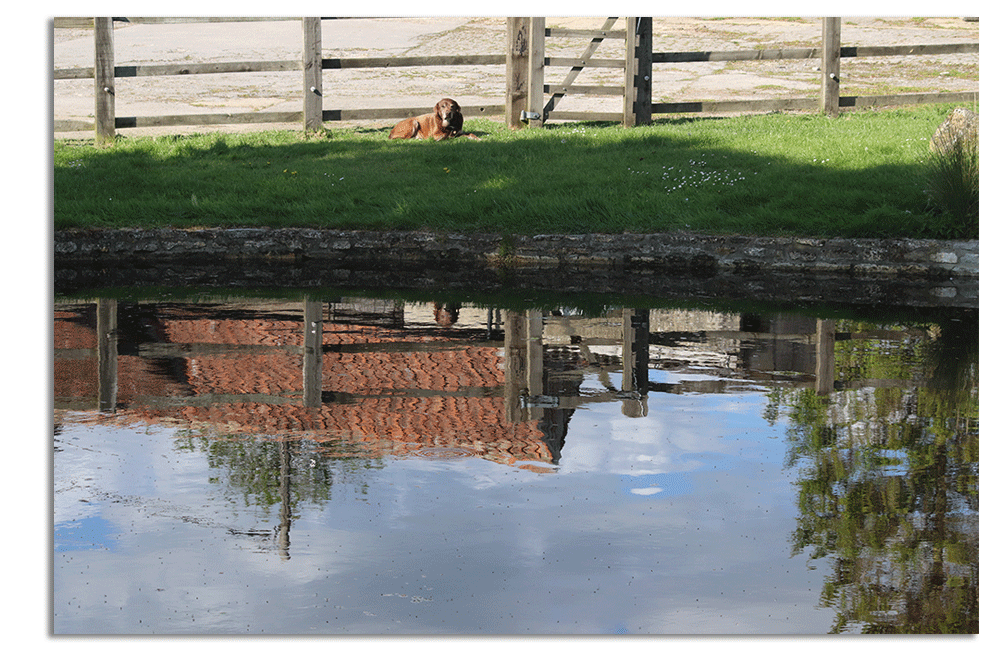 Biding Time
Sue Davies
Former Measurements of Time (from fastest to slowest)
Katy Young

The fifteen minutes directly following a shower
All periods of time on a Sunday, from 5pm onwards
Any and all time spent messaging crushes
The final minutes of my walk to work
20-30 minutes spent getting changed into two or more different outfits and then back into the original one, when already running 10 minutes late
The 45 minutes before final orders, when you are finally drunk enough to flirt
Any length of time spent on any activity on a Saturday morning including
a) reading in bed
b) cleaning the kitchen
c) sitting around
d) looking at the internet
40 seconds spent swimming from the shallow end to the deep end
Around two hours watching a good film at the cinema, which starts at 9pm
Under 10 minutes, cooking pasta, after work
Four to six hours talking about the future on the phone, while staring at the patterns in the rug on my floor
Two to four hours between paracetamol when you have cramps
In between 6-8.15pm, on a Saturday evening when you have no plans
Walking home from work
Any length of time, travelling in a car after two hours, unless you are
a) in traffic and running late for soundcheck
b) playing the game 'what savoury snack am I?'
c) secretly in love with one or more passengers
A single hour, one night in February 2019, between 4am-5am, before you left to fly to Germany
Less than four minutes playing a song you love to someone on headphones while you look at their face and reconsider whether they will like it, and then look anywhere else and reconsider whether you like it

A Poem To Welcome In May
Billy Bindley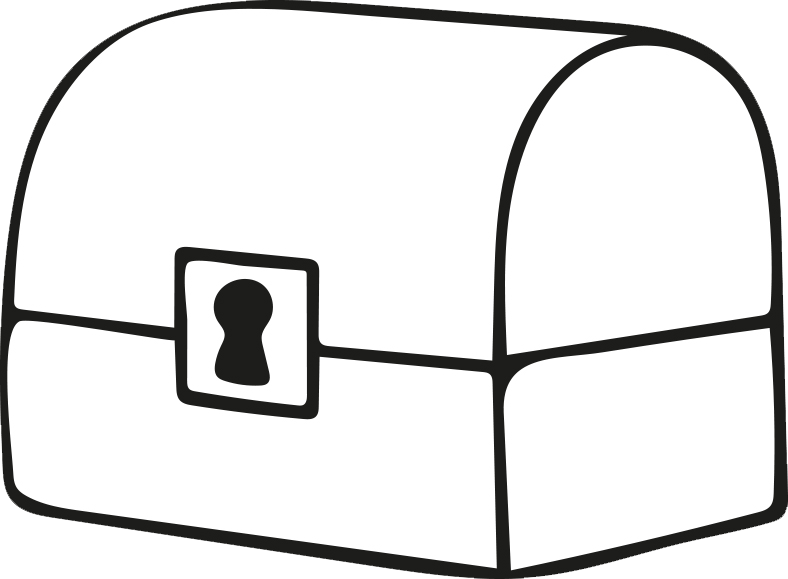 Click for full power
About Time
Sophie Koko Gate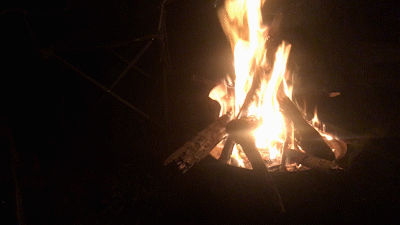 Tarot of the Week & Horridscopes
Luna Laura

The magician is a force of nature, mixing up the wands, swords, pentacles and cups to control time and invite wonder and creativity to our tiny shared flats. The magician can make miracles happen, stuff like making a virus disappear. This card reminds us it's time to take action, to do what needs to be done and make the best of it, shining light on our weird situation, totally committed to setting aside distractions and buckling (lock) down.




Dark clouds are fogging you up this week with a serious lack of imagination - The full moon has heightened your feeling and you need a distraction project to reconnect with your inner strength pronto. An old, wise, mystical woman once advised me to text the first person in my phone with the initial M just to say hi. It unravelled a path of great discovery and personal growth. Now it's your turn. See where it takes you.
Check our the full 'scopes here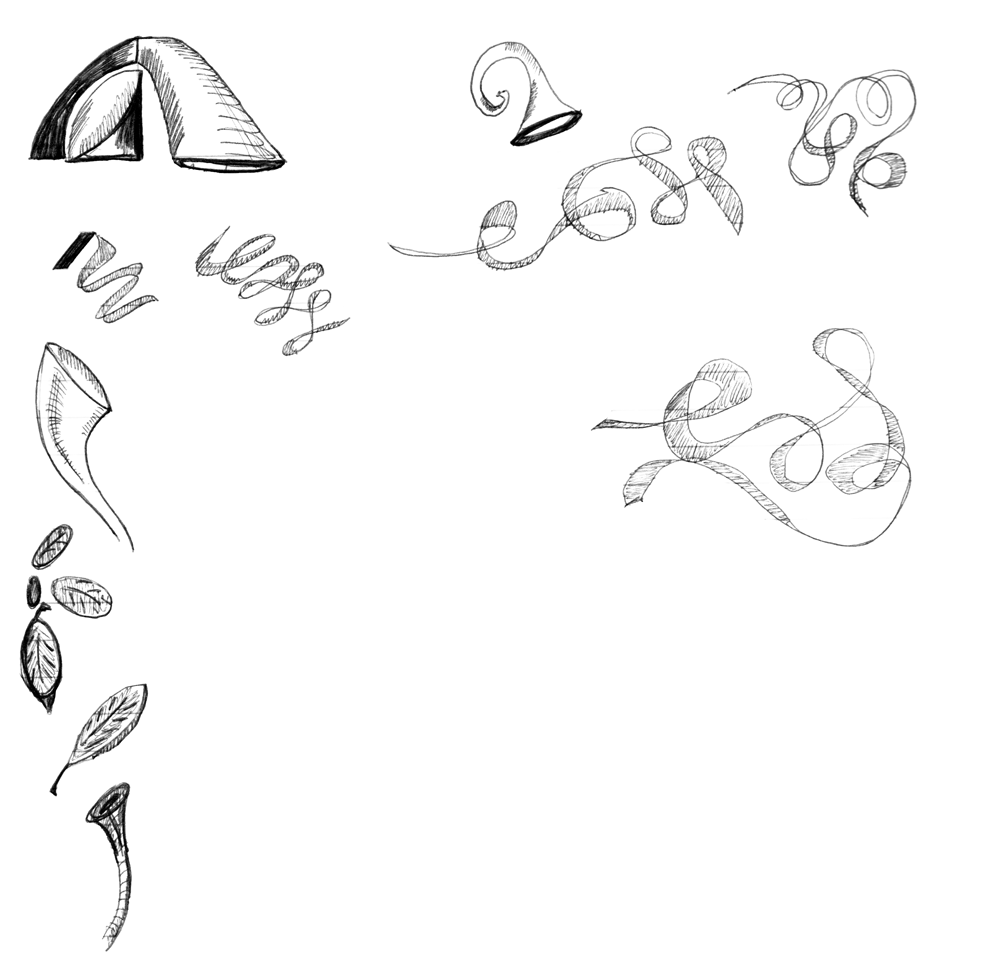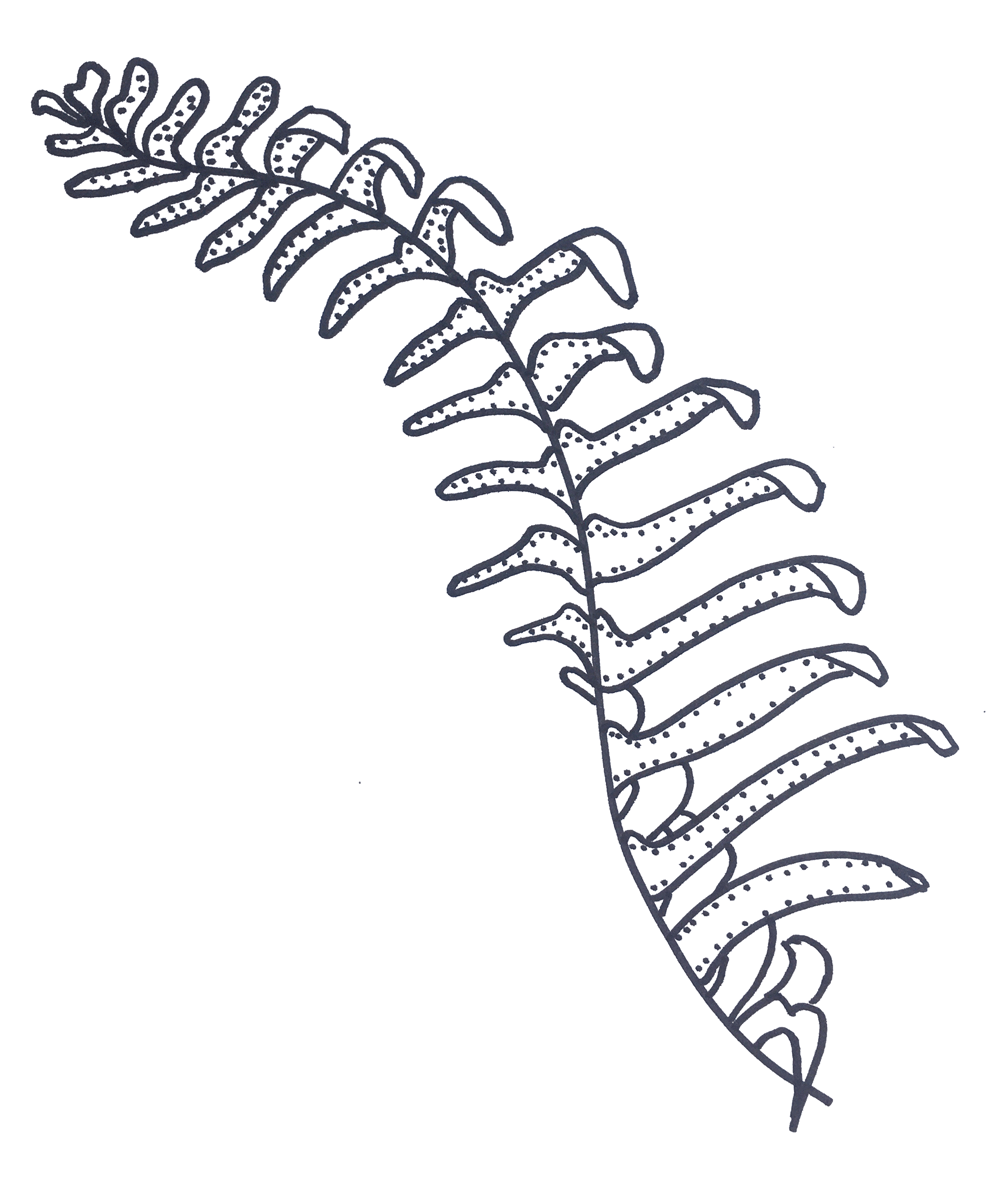 Clocking Off
Lousie Ashcroft and the Goldsmiths Zoomers

A Nameless Caffeinated Woman Furloughed From Her Managerial Position, Henrietta & Bobby (who haven't got out of bed yet), and a philosophical goldfish, have called a lunch meeting.

Clocking off! is an improvised unperformance by artist Louise Ashcroft and the Goldsmiths Zoomers*. Messing around with the basic ingredients: prop, plan and character, Louise and her improvised company invite you to their second ever performance exploring time and work.

You're encouraged to come in makeshift disguise or Bring Your Own Background if you would like to. You'll have 5 minutes at the start of the performance to get this together.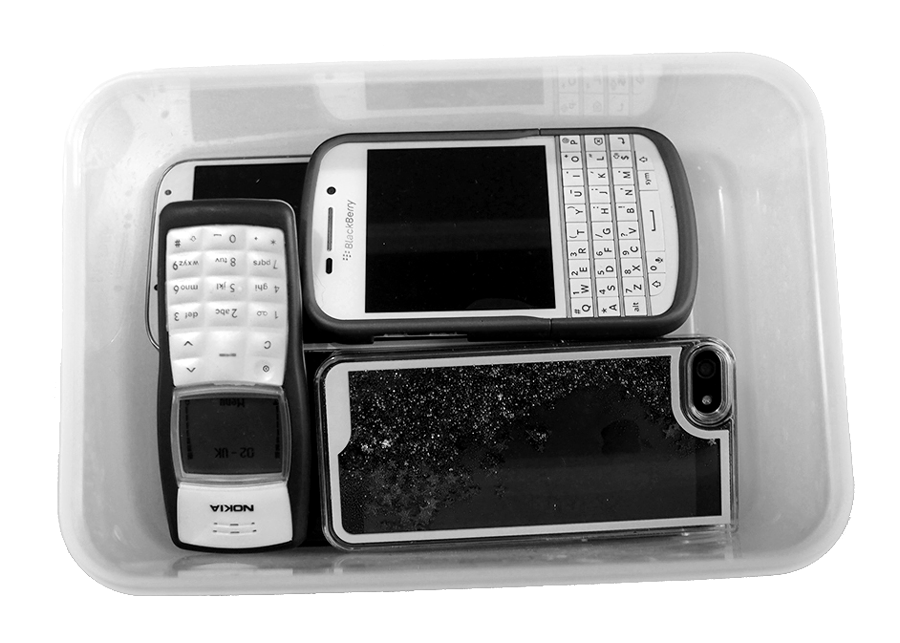 Over the past week, volunteer participants in the Uchronia Critical Mass experiment have been using their time in quarantine as an opportunity to 'unlearn' societal time. Working under the guidance of artist and academic Dr. Helga Schmid, they have been discarding clocks, watches and mobile phones in order to develop criteria for their own temporal systems.
Participants are being asked to invent their own 'time-giver' as a replacement for the clock, based on their beliefs and values. Dotted throughout this issue are examples
(in green)
of the time-givers that people are synchronising their lives with...
Click here to find out more and discover ways to get involved.

Another person's rhythm
One uchronian participant mirrored the life of his partner in Paris. She is a professional dancer and became his time-giver. Over the course of the experiment, he did exactly what she did over the course of 48 hours. When she danced, he moved and danced as well as he could, when she went to bed, he did the same, up to the greatest detail – when she ate and added too much hot sauce to her dish, he did the same.





Uchronia: unlearning time
Dr. Helga Schmid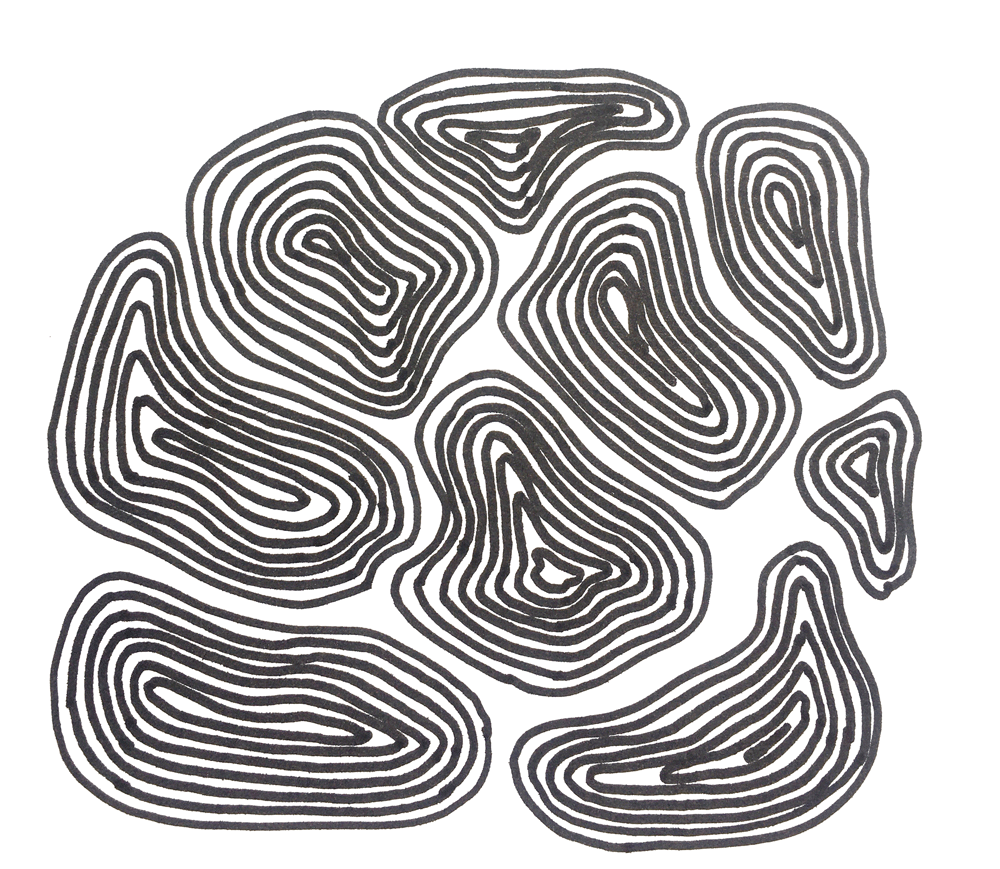 The notion of time in Proust's 'In Search of Lost Time'
In a group experiment, four participants chose to continuously read out loud Proust's In Search of Lost Time as their time-giver over the course of 48 hours. Each chapter of the book served as a time unit. By taking turns, always one member of the group read a chapter out loud, while another member was knitting for this period of time. As each person was given a different colour yarn, so the length of knitting for each chapter was visualised by the change in colour. This produced a visual output of each time unit. The other two listened, wrote, cooked or slept meanwhile.






I'm always hungry
Hunger served as a time-giver for a group of four over the course of 48 hours. Away from societal rhythms, they focused on their bodies, specifically their feelings of hunger, and explored these by cooking, under the additional temporal influence of music—which helped with how to cook the perfect egg, without time.






Inside a video game
One participant created her own Sims character (video game character) and followed the life of her character over the course of a day. In her game, one sim day related to 24 minutes. Each minute became an hour in her real day, leading to 1.5 hour long showers and Macaroni and Cheese for breakfast.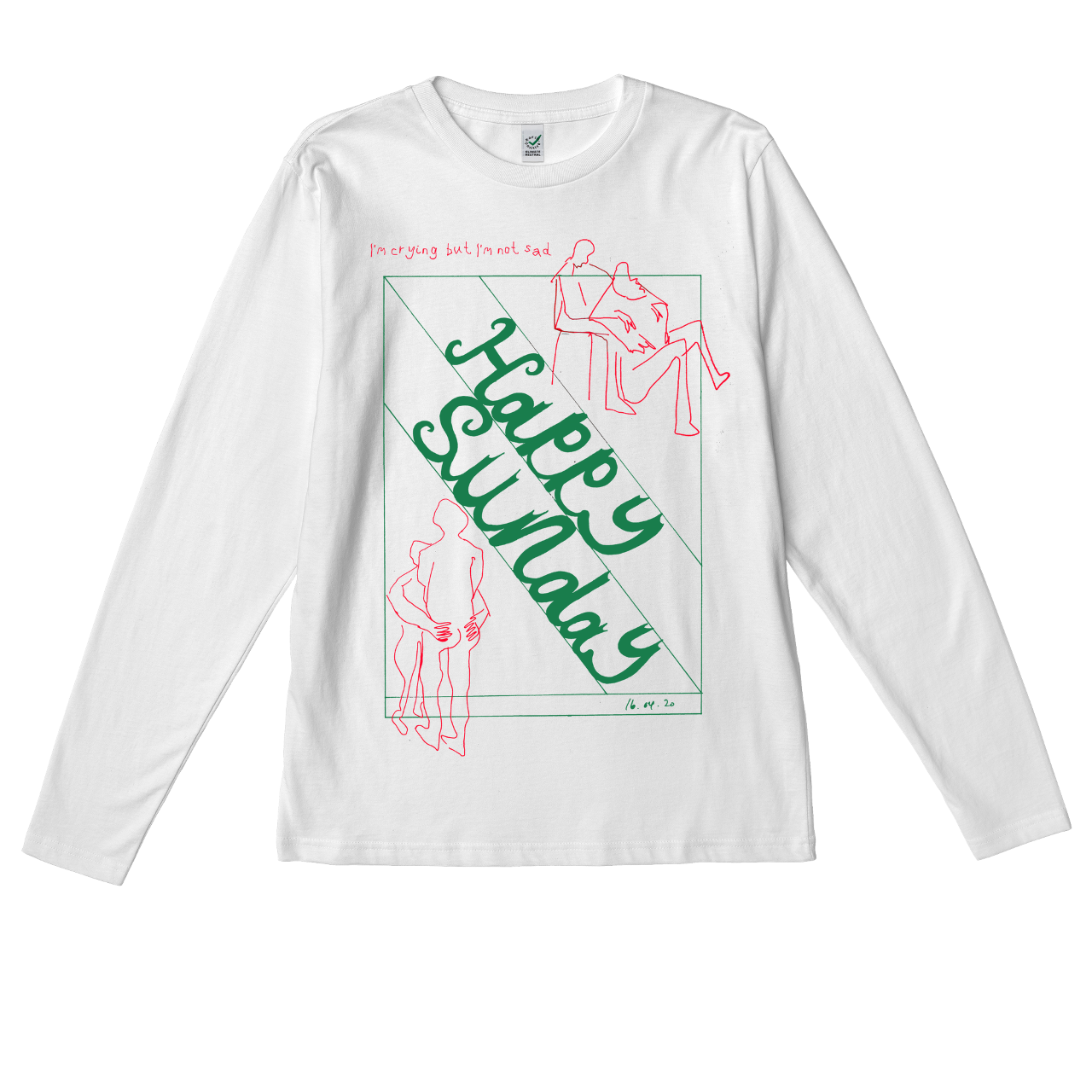 HAPPY SUNDAY
Jesse Rivers and Olivia Norris
'But wait' I hear you say, 'it's not Sunday!'
Au contraire friends, HAPPY SUNDAY is a sartorial collaboration between Jesse Rivers and Olivia Norris born out of quarantine, about listlessness/daylessness/routinelessness and the lack of social relations, lack of intimacy and human-y things we currently find ourselves experiencing.
The T-Shirts can be purchased through
Everpress
and all profits go to
Tottenham Community Food Hub
who support low income families, isolated older people, and people who are homeless during these difficult coronavirus times. HAPPY SUNDAY is available with short sleeves (£20) or long sleeves (£25) through Everpress until 27 May, so don't sleep on it!
Random time device
A group of two replaced the clock by their own time-giving device. A random time-giver, giving them tasks that could vary in duration from 5min up to 5 hours. The device also told them randomly when they were allowed to eat, sleep and use the bathroom. Testing these in a blacked out house to avoid any timesaving clues through natural daylight, they gave up complete control over their time and experienced moments of deep concentration.




Ambient Timelapse
@Erogenousbosch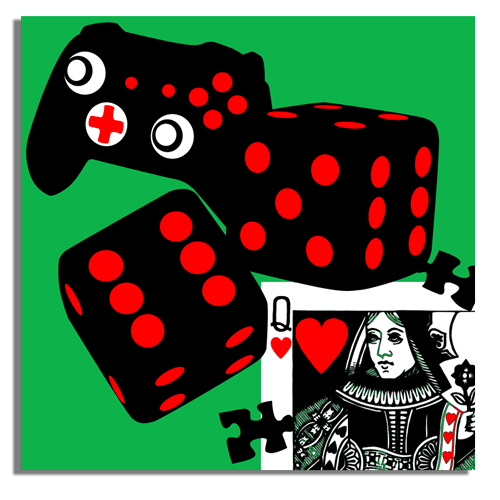 Games Corner
Thea Christy-Parker
Our lovely new Games Researcher Thea reflects on long distance relationship gaming. With reviews of Stardew Valley and Wordfued.
← G'wan, click it!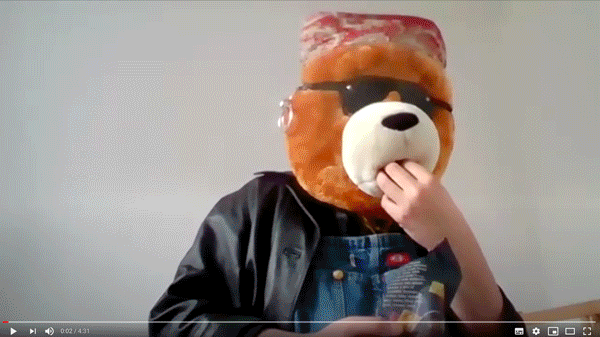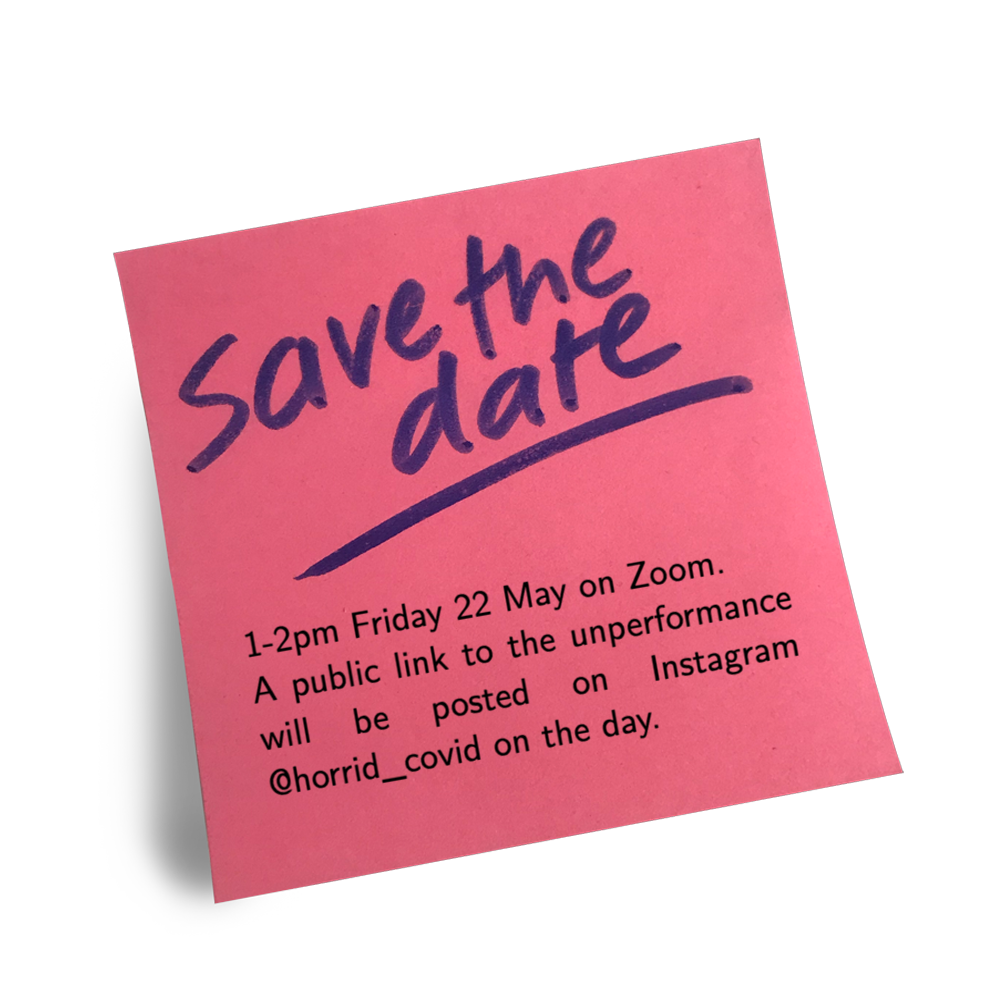 After 7 or so weeks in quarantine, and 3 fabulous issues of HORRID Covid!, we are going to take some time out to reflect on everything that has happened.
Following the initial urgency to creatively connect, support each other and react to the changes in our lives that seemed to happen overnight, we were so excited by the response that we met from our magnificent readers, who also showed up overnight. We have shared your dreams and nightmares, your bedroom-offices and your days at school, your songs, the leaves on your plants, your bathroom-dwelling boyfriends, your emails. We've taken comfort with you - turning on every video and slowly scrolling through your lives.
Making plans by the virtual fire in the
HORRID Covid! living room
over the past weeks, our relationship to the situation outside has often felt unreal. Our bones tell us that it is now time for a slower encounter with the ricocheting realities, and we want to get to know you. We want to stop, look, listen and hang out.
From here on, we will be producing HORRID Covid! monthly (not bi-weekly), and we plan to proceed with 3 more issues through June, July and August as we navigate these next months straddling lockdown and the post-lockdown world.
We are really excited to keep in touch as we experiment with new possibilities for our coronavirus scroll and make plans for issue 4. If you've got ideas you would like to share, a project to collaborate on, a new direction you would like to take us in, now is the time to get in touch!
horridcovid@gmail.com
Sending thanks and big love
The HORRID Covid! editors
(Jessie, Mel & Rachel)
Another Note From The Editors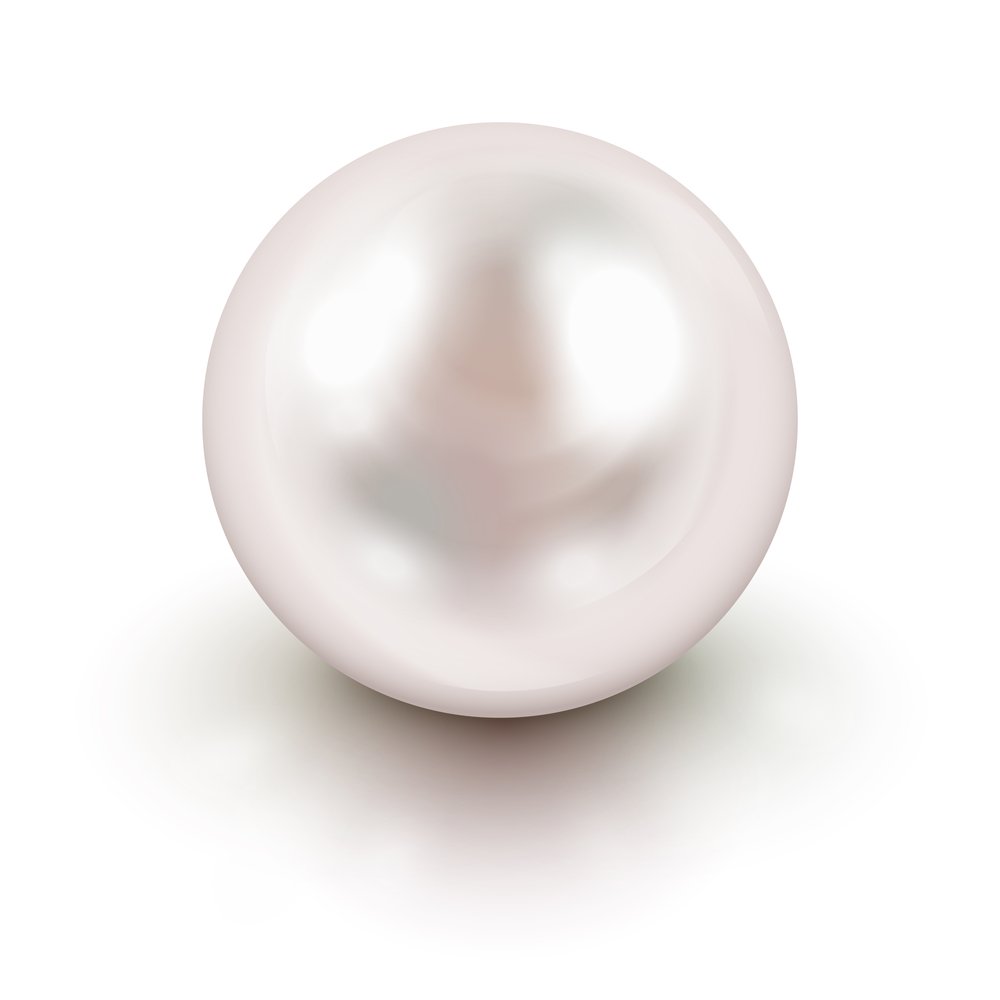 Tenaya Tells It
Tenaya Steed
Asseyez vous! Tenaya Tells It to a teacher who's struggling with the guilt of not doing much at a time when so many are suffering at work (or have even lost their jobs). She takes us back to 2016 (sorryy), when David Bowie died, then Alan Rickman, then Prince. It was the year we voted to leave Europe, and America voted to elect Trump... Don't despair! She's our Agony Aunt and she's got pearls for ya.
↓ Click!
Editor's Note

7 weeks (a whole summer holiday) have come and gone and we're still stuck at home.

But with news that the commuter trains are resuming their services and our old schedules will creep closer as of Monday, we question whether now is the right time to clock back on. Fearful for the consequences, we wish for some real news; a solid, safe timeline for this mess; something concrete to build our plans around.

Time is money, and with the economic logic that usually grips our lives both tighter and looser than ever before, some of us feel liberated, whilst others (watching pals around the world, already back to the future) brace themselves for –

- what, when, who knows? Over the past seven weeks most usual forms of time management and planning have lost their relevance. A tarot reading seems more appropriate than ever.

This issue is dedicated to soaking up time as it freezes or slides by. To its elasticity, to its filmic capacities for action and speed, to its clagginess when every day is the same, to being late (even in isolation), to using time differently, to inventing it anew!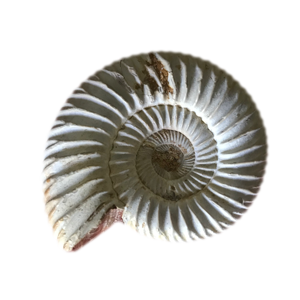 You Can Be Whoever You Want To Be
Madeleine Dunnigan
Click to read the full story
"Sal had spent her life living in other people's rooms. She had resolved, recently, to settle down..."